Prosecutor missed several opportunities to question Assange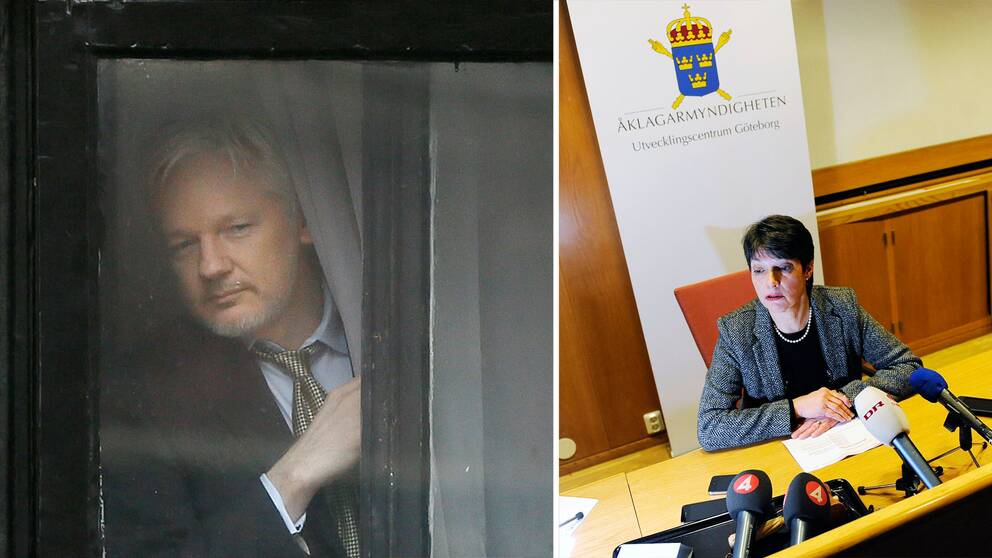 Julian Assange and prosecutor Marianne Ny.
It's been six years since Julian Assange was arrested for sex offences in Sweden. But it took criticism from the Court of Appeal before the prosecutor made the request to question Assange in London. Nothing has yet come of the request.
When he arrived in Sweden in August 2010, the United States already had a warrant out for the arrest of Julian Assange. The whistle-blower website WikiLeaks, which Assange founded, had released a video leaked to them by someone in the US military, showing an American helicopter firing on and killing several people in Baghdad in 2007. This was the first big revelation that called the US military actions into question.
A few months later, WikiLeaks published 75,000 documents about US military operations in Afghanistan, including documentation of hundreds of civilian deaths.
Assange came to Sweden seeking protection for WikiLeaks – and for himself.
Was accused of sex offences
But during his visit in Sweden, Assange was accused of sex offences – and an investigation was initiated that is still underway. The case involves two separate relationships that began consensually, but the women later jointly went to the police and filed reports of sexual assault; rape in one case, molestation in the other.
The rape accusation comes from one of the women. In her statement, she says that they had consensual sex that night. She stated clearly that she wanted him to use a condom, she says. In the morning, she was awakened by him penetrating her again. Worried about HIV, she asked if he was wearing a condom. His answer was no. She felt it was too late to stop him. According to the police report, the intercourse was against her will and the incident has been classified as rape. The same day she filed the report, 20 August 2010, a detention order was rendered in absentia by the prosecutor on duty for the arrest of Julian Assange.
Denied all charges of sexual molestation
However, Chief Public Prosecutor Eva Finné determined that there was no reason to suspect that Assange had committed rape and changed the detention order. The suspicion of sexual assault against the other woman remained. According to that report, Assange intentionally broke the condom and then maliciously ejaculated in the plaintiff against her will. Assange, who was still in Sweden at the time, submitted to questioning with his then lawyer and denied all charges of sexual molestation.
The women's representative, Claes Borgström, appealed the decision to drop the rape investigation. This is when the director of the public prosecution authority, Marianne Ny, came into the picture. She reopened the preliminary investigation and stated that several avenues had not been explored in the investigations.
Claims that it was impossible to get hold of Assange
If the prosecutor had questioned Assange when he was still in Sweden, either the investigation would have been dropped or charges would have been pressed. But the prosecutor claims that it was impossible to get hold of Assange despite many attempts.
Assange himself states that he stayed in Sweden for five weeks. According to his previous lawyer, Björn Hurtig, he remained in Sweden nearly a month after Marianne Ny reopened the investigation. During this time, Assange learned that there were no legal obstacles to him leaving Sweden, Hurtig said.
Was he available for questioning, then, or was he in hiding? What was happening during this time?
"To the best of my knowledge, he was not in hiding," Hurtig says. "He was fully prepared to come in for questioning during this time, as long as it fit into his schedule."
Swedish police were waiting for him
When Assange left Sweden, he was prepared to come back, Hurtig says. Assange felt he had been promised that he would not be arrested, but could come to the interview as a free man. But while discussions were underway as to when the interview would take place, Assange found out that the Swedish police were waiting for him outside a seminar in Stockholm where he was supposed to speak. Assange felt that he had been ambushed, which increased his fears of being turned over to the United States. After that, he no longer wanted to come to Sweden.
Instead, a detention order was rendered in absentia on 18 November and the prosecutor later issued a European Arrest Warrant. This became the start of a long legal battle that ended in 2012 with Assange fleeing to the Ecuadorian Embassy in London, which granted him asylum.
Björn Hurtig doesn't think Marianne Ny did everything in her power to move the investigation along.
"I seriously think she had a duty to go over and talk to him," he says. "Have your first interview now, so we can get on with the investigation."
"We would have been giving him preferential treatment"
Ny claims that Assange has not been available for questioning. But over the years, the prosecutor has had several offers to interview Assange in London – a procedure that is by no means uncommon, says Assange's lawyer, Thomas Olsson. Ny has consistently demanded that the interview take place in Sweden.
"Holding the interview in London would lower our quality requirements in the ongoing investigation," Ny says. "We would have been giving him preferential treatment that we don't grant other suspects of serious crimes."
Is that what's important?
"It's also important that we treat similar cases similarly. It's important that we maintain high quality in our investigation procedures."
Court of Appeal harshly criticized the prosecutor
Eventually, other parts of the Swedish justice system reacted to Ny's refusal to hold the interview in London. In November 2014, the Court of Appeal examined the detention of Julian Assange. They found that he should still be detained, but harshly criticized the prosecutor for not doing enough to pursue the investigation. Marianne Ny had not tried to find other ways to interview Assange, and the Court of Appeal found that this was not consistent with the prosecutor's "responsibility to proceed with the investigation, in the interests of all parties involved."
The first four months after the criticism of the Court of Appeals, when the Supreme Court of Sweden was about to take up the case, Ny finally requested an interview with Assange in London. But she denies changing tack solely so that the Supreme Court would approve his continued detention.
"No, we changed our approach after the criticism of the Court of Appeal," she says. "We accepted their criticism, and also observed that the statute of limitations was approaching."
The prosecutor's turnaround had an effect. Assange remained officially detained because questioning was underway. That was a year and a half ago.
"It still hasn't happened"
"You could say that the prosecutors convinced the majority of the Supreme Court to uphold the decision by implying that an interview would occur in the near future," says Thomas Olsson. "But it still hasn't happened."
Although the prosecutor did request an interview with Assange at the embassy, the interview never happened. The prosecutor failed to submit a correct request for legal assistance to Ecuador in time.
Today there is an agreement between Ecuador and Sweden.
"Is she going to do it this time? I don't know…" Assange says. "But based on my experience of the past six years, I'm extremely sceptical."
While the investigation has stood still, the suspected offense against one of the women has come under the statute of limitations – her case will not be tried.
Julian Assange avoids answering questions about his own role in the crimes he is accused of. But he denies the accusation of rape and claims that he is willing to answer the prosecutor's questions.
"You're asking me to go into the details of the case," he says. "The correct place to do that is in a formal statement to the Swedish prosecutor. She's been avoiding that for six years. I don't think Swedish television is the right place."